Projects
Here is an incomplete list of some projects I did over the last years.
Desktop
active

i3 Window Manager Fork: Layers
Author
Since: 2020
Source: GitHub
C
A personal fork of the i3 window manager to cope with large amounts of workspaces. Workspaces can be organized in "layers", which allows for a separation of groups of workspaces. The idea is to simplify access to workspaces in your current layer (e.g. work).
active

i3 Workspace Names Daemon
Contributor
2020
Source: GitHub
Python
A very useful daemon which renames the workspaces according to the windows inside them. Names and icons can be assigned.

done

xsecurelock: Lock Screen A deep-dive into the world of Linux X11 desktop graphics using xcb and cairo for drawing text. I'm very happy with the simplistic style of the lockscreen.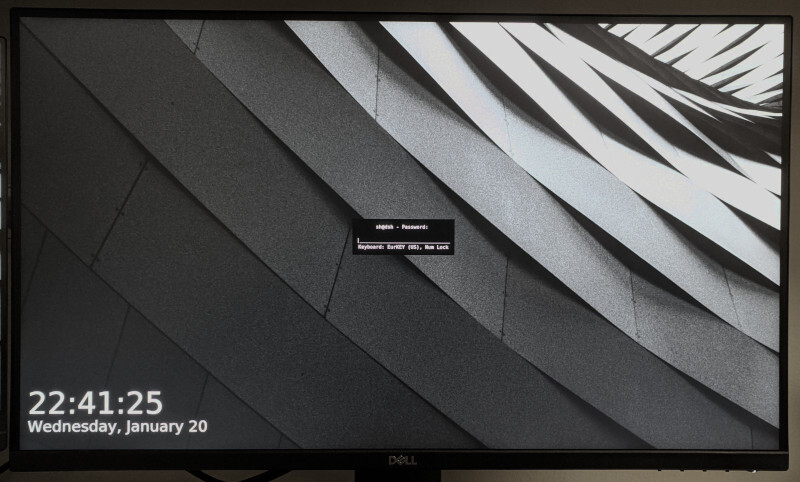 in development

Deterministic Semantic Version Manager: Demver
Author
Since: 2020
Source: GitHub
Rust
Aimed at deterministically freezing and updating versions of ecosystems following the SemVer scheme. The main use-case is to freeze the hashes of docker image labels (as they can update arbitrarily).
Web
active

Webpack Plugin: Context Map
Author
Since: 2019
Source: GitHub
JavaScript, Webpack
A tiny plugin for statically bundeling dynamic dependencies using webpack. Mostly used by me (as the problem does not seem to be too common). It is very useful for bundeling JS/TS into a single node-executable file.
active

Vue Library: vue-step-progress
Author
Since: 2018
Source: GitHub
JavaScript, Vue.js
A very simple and extensible Vue.js component for creating a step-by-step Wizard. The main value of the project is to understand how to maintain and update a JavaScript library on npm.
active

Docker + Nginx + Let's Encrypt: Yet Another Image
Author
Since: 2020
Source: GitHub
Bash
A tiny (< 100 LOC) understandable bash script in a docker container handling Let's Encrypt certificate updates. (Yes, another one of those.) Why? Because all the popular existing ones suffer from feature-overload and complexity which I don't need.
in development

Several Small Websites
Author
Since: 2015?
Source: Private
JavaScript, Node.js, Vue.js
Development and management of several small websites (mostly DevOps). Including some homecrafted content management systems.
Full Stack
discontinued

Math Tutoring App for High-School Pupils
Author
2016-2019
Source: Private
JavaScript, Node.js, MongoDB, Android/Kotlin, SQL(ite)
Small startup aimed at replacing in-person high-school math tutoring with an interactive app experience with a team of 5. Did not succeed.
Lessons learned (some of them):
Use more paid service providers, development from scratch wastes valuable time 💵
Don't accidentally rebuild Stripe from scratch 😅
MongoDB is great for storing stuff, but terrible for querying 🙃
Do some more market analysis before starting 🙂
Reverse Engineering
very beta

RE'd Kettler Exercise Bike Bluetooth Protocol
Author
Since: 2018
Source: Private
Android/Kotlin
Due to the exercise bike's incompatibility with new Versions of Android (5+) and the lack of features, I reverse engineered the communication between the bike and several third party apps. After reversing the protocol, I found an existing protocol implementation. I focused on creating an Android app that is able to control the bike's resistance according to structured user-defined trainings.